The Producer Company of Tainan, Taiwan is one of the leading manufacturers of hot chamber die casting machines and automation equipment in the international market since 1979. For over four decades, we have been dedicated to producing the highest quality and highest technology equipment to a variety of operations all over the world.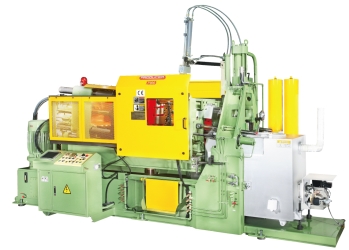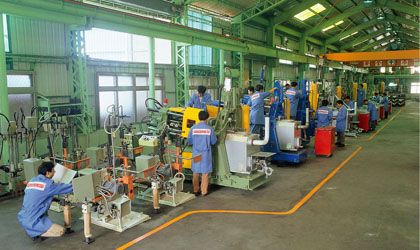 We have sold and installed many new machines to a variety of customers ranging from smaller job shop die casters to large captive operations with dozens of machines. We can arrange visits and encourage our potential customers to ask for references to hear first hand from satisfied customers.
In the highly competitive die casting business, it is extremely important to know your supplier and trust their service. We deliver what we promise and stand behind our products. Don't take our word for it; ask our growing customer list.
The control systems of all of our machines are designed to provide the highest level of reliability combined with the simplicity of a user-friendly touch screen interface to maximize production and minimize training requirements. We utilize a proven industrial grade programmable logic controller combined with an operator interface that allows control and setup of all operating parameters as well as providing diagnostics and memory for all machine functions.
For pictures and further information on Control Systems, click here
The hydraulic systems on our machines are perhaps the best feature we offer. A high-energy efficient motor and pump are located to maximize performance and minimize noise. We have recently engineered new high efficiency hydraulic circuits to use smaller pumps and still deliver higher speeds of operation while saving electricity. Separate manifolding for the clamping system, the shot system and on larger machines, the core pull and hydraulic ejection provide efficient delivery of the fluid to enable smooth, trouble free operation. By utilizing separate accumulators for developing closing speed and operating the shot system, we eliminate the need for larger, more energy consuming pumps and this allows lower operating pressure to provide stable performance with less maintenance required.
All machines utilize our proven system that provides a large hydraulic fluid reservoir with baffling to isolate the suction and return sides of our system. A large capacity heat exchanger maintains proper operating temperature for the hydraulic fluid.
All machines feature low pressure closing, automatic recycling, hydraulic multiple pulse ejection, hydraulic multiple sequence core pulls, motorized die height and two speed shot as standard. Speed and pressure can be individually adjusted on most of these features.

Our shot systems are of particular note because we provide extremely high shot pressure and velocity comparable to the most sophisticated and expensive machines in the world. A unique sequence valve arrangement coupled with our proprietary circuit design provides our customers with the ability to tailor each set up to the requirements of the job they are running. Parameters can be saved on a log on the operator interface to be called up at any time.
Automation equipment and accessories for our machines were developed and are built in the same facility as our machines. Everything is designed to interface seamlessly with a minimum of setup required. We offer a dependable, proven vertical rotation extractor, a variety of reciprocating spray systems, a variety of conveyor systems utilizing both water quench and an air cooling tunnel and central hydraulic nozzle position changing. We can supply shot monitoring systems, chillers, vibratory finishing equipment, trim presses, weight sensing scales, special platen drilling and arrangements, special bases for custom installations and a variety of furnace and fuel options to suit any requirement.
All models are supplied with a complete set of spare parts, tools, manuals, hand spray gun, die lifting boom (models up to P200), die clamps, a complete water manifold and drain system. Freight on all of our machines is included to the customer's assigned seaport. We provide startup and training with every machine and we stand behind our products with a strong warranty and complete stock of spare parts and factory trained technicians to assist our customer base.